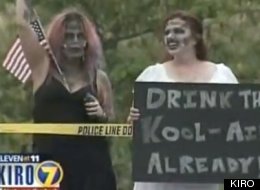 If the American Civil Liberties Union (ACLU) ultimately goes to bat, as they should, for Chick-fil-A, its COO's personal opinion against same-sex marriage is not the most inflammatory free speech they've defended, even in the Chicago area. In 1978, they
defended a neo-Nazi group's right
to parade down the north suburb of Skokie, where many Holocaust survivors lived.
(Myself, I've been through the Jewish village in Skokie, and lived in the north suburbs of Chicago for a few years. The effects and aftermath of that whole fiasco are still in the hearts of many in the Jewish communities in Chicago's north suburbs, thirty years later).
While that issue may be cooling on the grill, another "free speech" battle happened. Another inflammatory and potentially regular defendant of the ACLU is Westboro Baptist Church, who use their freedom of speech to spew twisted theology and hateful condemnation to those mourning at funerals. They are protected by the first amendment, but so is the
larger group of people, dressed like zombies
, to creatively and legally keep Westboro's picketers away from the funeral.
Way to be selfless and non-violent, zombies!