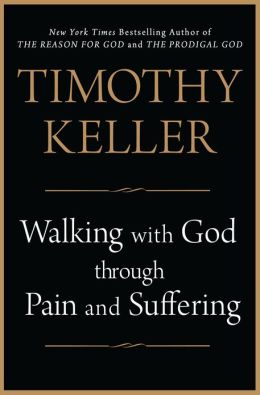 Tim Keller, a Manhattan pastor, a shepherdly intellect and a book-making machine, recently released a book on theodicy entitled Walking with God Through Pain and Suffering. At first, I was amazed again at the prolificness of Keller, but then I noticed who reviewed and recommended his book: Joni Eareckson Tada.
For those who don't know Tada, she became a quadriplegic after a diving accident in the Chesapeake Bay in 1967, when she was 17 years old. She's since become a wife, professional painter (with her teeth), singer, author, and speaker. Tada is an authority on suffering (her story was an anchor for Philip Yancey's first recognized work, Where is God When It Hurts?) and an advocate for the disabled.
"Walking with God through Pain and Suffering may be the most comprehensive contemporary book on the subject. And for me, that's saying something. I've even ordered copies for a few friends who gag when they hear the God of the Bible is not embarrassed to say he's sovereign over suffering. That's what irks them: that sticky, inconvenient propensity of God to tuck everything under his overarching decrees without explaining why (or getting himself dirty). That's what drives them crazy.
"It drives us Christians crazy, too. Admit it: like pickles in a jar, our minds are soaked with all sorts of secular subtleties. We are infected by our culture of comfort and convenience, and would rather erase suffering out of the biblical dictionary. We want a God who supports our plans, who is our "accomplice"; someone to whom we can relate as long as he is doing what we want. If he does something else, we 'unfriend' him."
So yeah, I might be adding this to my bookshelf.